The Northumberland Heath Primary Curriculum
The Woodland Academy Trust aims to provide learners with an educational experience that provides them with the skills, knowledge and character to understand and contribute to the world they live in.
Wherever possible we look for meaningful opportunities across the curriculum for the children to make connections with their learning whilst not compromising on the knowledge they need to build upon.
Phonics
Our phonics curriculum follows the clear systematic approach set out in Little Wandle Letters & Sounds.  Key skills are developed through the Review, Teach, Practice, Apply teaching structure.
Early Reading
At Woodland Academy Trust, children are taught to use phonic knowledge and skills as the route to decode words, alongside language comprehension processes (our ability to acquire and understand vocabulary).
Reading Schemes
At Woodland Academy Trust, we use books matched to the children's secure phonic knowledge using the Little Wandle Letters and Sounds Revised assessments and book matching grids. Our chosen reading scheme is Collins Big Cat for Little Wandle Letters and Sounds. The decodable reading practice book is used to teach reading in school and is taken home to ensure success is shared with the family.
Whole-Class Reading
When our children are secure with all the phases within our phonics scheme and can apply this in their reading, they are taught to read books that are not fully decodable. These books are high quality texts, covering a range of literature types seen in fiction, non-fiction and poetry across each half term. At the Woodland Academy Trust, we enhance learning in the wider curriculum by linking the books that are studied during these lessons to topics learnt in geography, science and history. This may include core texts, which can be found in each school's curriculum handbook. We ensure that the content domains from the National Curriculum are taught through this approach. The Woodland Academy Trust also draw on strategies from Just Imagine's Take One Book programme, to ensure that learning is engaging and relatable to pupils.
Reading for Pleasure
We are committed to developing our Reading for Pleasure pedagogy and are committed to ensuring that children's experiences of reading are enriched through commitment to well-resourced library areas and book corners. Our aim is to build a community of readers.
Writing
Our writing curriculum aims to enhance topical learning through the use of core texts and teaching draws upon the EEF Improving Literacy Recommendations and Talk for Writing principles.  The writing process is constantly adapted to meet the needs of the children in our schools.  There is a culture of writing for a range of purposes to best prepare our children for the world beyond primary school.  Children are taught to formulate and articulate increasingly sophisticated sentences as well as having regular opportunities to develop quality vocabulary and language choices.  We provide regular opportunities to apply their writing skills in extended quality pieces of writing.
Oracy/Spoken Language
Our children are taught to speak clearly and convey ideas confidently using Standard English. They learn to justify ideas with reasons; ask questions to check understanding; develop vocabulary and build knowledge; negotiate; evaluate and build on the ideas of others; and select the appropriate register for effective communication.  They are taught to give well-structured descriptions and explanations and develop their understanding through speculating, hypothesising and exploring ideas. This enables them to clarify their thinking as well as organise their ideas for writing.
Vocabulary development
Acquisition and command of vocabulary are key to learning and progress across the whole curriculum. Teachers develop vocabulary actively, building systematically on their children's current knowledge.  They also make links between known and new vocabulary ensuring the children expand the vocabulary choices that are available to them when they write. Vocabulary is explicitly taught in all curriculum areas.
EGPS
We have developed our very own bespoke Grammar, Punctuation and Spelling curriculum.  Each year group covers key aspects linked to the National Curriculum starting with a 'ready to write' lesson and culminating in consolidation of learning opportunities.  Each year group has a clear long-term overview which covers progression of grammar and punctuation skills.  Our bespoke curriculum sets out the knowledge that children should learn for each GPS skill in each year group, including model questioning and ideas for teaching the content.
Handwriting
At Woodland Academy Trust, we follow the Improvement in Schools through Handwriting and Art (ISHA) approach to handwriting. Systematically following the programme ensures that letters are correctly formed, and joins are taught once pupils are secure with letter formation. The style is semi cursive with no loops or lead ins.
Each year group has a weekly timetabled Personal Development lesson. Across a half term, the Personal Development lessons incorporate all of the statutory PSHE requirements following the Skill Builders system set out by the PSHE Association, the national association for PSHE education professionals.
Under the umbrella of Personal Development, we also deliver Character Education lessons using the 6 WAT Characters. Additional lessons are planned during this time to encourage discussions around the fundamental British Values, and our role in the community and as a global citizen.
Each classroom has a Character Education poster which is used to display post it notes, pictures and examples of children's work. Each classroom also has a Personal Development file which can be found in the reading corner. This is used to store examples of work, pictures etc that have been completed in these lessons and is available for children to look back through as a reflection aid.

All of the schools in the Woodland Academy Trust are part of London South East Children's University, an award programme that encourages children to get involved in lots of exciting activities and experiences in their local area. All school sites are recognised Learning Destinations, and all of our extra-curricular clubs are validated through Children's University.
In Key Stage 2, children will receive their own Passport to Learning and gain a stamp for every hour of activity completed at a validated Learning Destination, as they work towards their Children's University Award, Certificate, Diploma, Degree and eventually Fellowship. At the end of each year, children who have earned enough stamps are invited to a special university-style graduation ceremony to celebrate their success!
There are lots of Learning Destinations that have already signed up to the London South East Children's University, from kayaking on Danson Lake to following in the footsteps of Charles Darwin at Down House, with plenty more places and activities looking to get involved.
You can see the full list of Learning Destinations in the area by clicking here.
Technology in Education
At the Woodland Academy Trust, we strive to make sure all children are equipped with the digital education that they need for the future. We use technology to foster creativity, confidence, and collaboration, as well as to remove individual barriers to learning, allowing all children to realise their full potential in a way best suited to them.
Computing Curriculum
Throughout Y1, children are taught how to use all the functions of an iPad correctly and independently. Through basic tools such as accessibility features, children learn how to personalise their own learning experience to tailor the way they interact with digital devices. From Y2 onwards, children continue through our bespoke computing curriculum to develop essential skills across a range of themes, including e-safety, digital literacy, coding, and design. These themes are revisited every year to allow students to enhance and develop their skills and knowledge whilst using a range of devices, applications, and operating systems.
Each Autumn, children complete a unit around online safety which is revisited each half term as part of our safer online relationships education lessons. Our coding and design units provide children with the skills required to move from basic algorithms and presentation platforms, to advanced coding and designing and developing their own applications.
Technology Across the Curriculum - Universal Design for Learning
At Woodland Academy Trust, we utilise technology to allow all children to experience success.
Children are provided with access to a variety of mediums in which they can demonstrate their learning, from sending a voice note, to making a short film or presentation, or simply to write in their book. By providing children with options, they are able to engage with and demonstrate their learning in a way most suited to them. This removes the need for any child to feel isolated from a task or unable to achieve.
We carefully design lessons to focus on the key area of learning. Using Showbie as an online interactive platform, teachers can easily send out documents for children to interact with and quickly return for personalised feedback. This is directly linked with Socrative – an online assessment tool which quickly allows teachers to address misconceptions, and identify any targeted intervention. Augmented Reality applications are used to provide children with engaging interaction with 3 dimensional objects in the classroom, and features such as Apple Maps allow children to understand their place as a global citizen in context with their own community.
Throughout Key Stage 2, children are given the opportunity to earn their Woodland DigiStamps by completing 8 tailor made projects as they develop their portfolio to apply to become a Woodland Digital Expert.
Mastering maths means children are acquiring a deep, long-term, secure and adaptable understanding of the subject. We believe and adhere to the following principles to help our children have a secure understanding of maths, using White Rose Maths as the core delivery tool for this.
Coherence
Lessons are broken down into small, connected steps providing access for all children and leading to the ability to apply the concept to a range of contexts.
Representation and Structure
We use concrete resources and pictorials to make maths visual so children can see and manipulate it. Concrete maths resources are objects that can help children see maths. For example, "five apples" and "half of a pie" are concrete numbers, while "five" and "one half" are abstract numbers.

In every maths lesson, teachers model how to use precise maths language to explain mathematical thinking and encourage children to discuss their ideas and thinking while they explore maths concepts. Teachers encourage children to share their thinking to deepen their understanding of a maths idea by questioning; for example: What have you discovered? How did you find that out?
Fluency
Quick and efficient recall of maths facts, for example, number bonds to 10 (numbers that add up to make 10), times tables, days of the week, and months. Each year group has a daily 'maths meet' which helps support the development of fluency.
Variation
The teacher represents the concept being taught, often in more than one way, to draw attention to a particular idea and develop an overall understanding. We encourage children to pay attention to what is kept the same and what changes, connect the mathematics and draw attention to mathematical relationships and structure. For example, if I know 2 + 2= 4 then 12 + 2 =?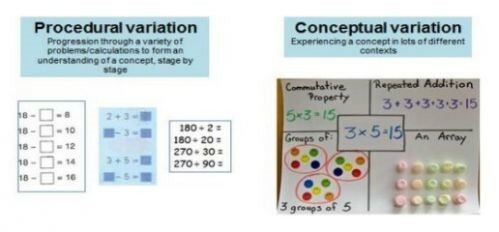 The diagram below shows how the steps above link and weave through to build children's understanding and enable them to understand, apply and eventually master the concepts of mathematics (NCETM).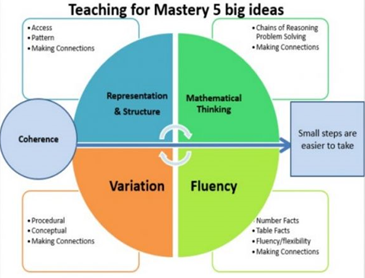 Teaching Calculation
Please see the attached documents for how we approach the teaching of calculation
At Northumberland Heath Primary School, we use the Bexley Agreed Syllabus in Y1 to Y6. The syllabus is based around a key question approach, addressing three strands across each year group – believing, expressing and living, and sets out the suggested content for learning for each key question. If a particular religion is followed by a child in the class which is not included in the syllabus (for instance being a Sikh or a Jehovah's Witness), then the syllabus can be adapted. In EYFS, RE is interweaved throughout their topics, and does not follow the Bexley Agreed Syllabus.
Throughout the teaching of Religious Education at Northumberland Heath Primary, children will have the opportunities to gain knowledge of how others live their lives, and it will equip them with the appropriate understanding to demonstrate respect for themselves and others as people with their own opinions, rights and social belonging. During our teaching of RE, we will incorporate some or all of the following: the use of religious artefacts, visits to places of worship, visitors to the school from different faiths, teaching approaches that promote Religious Education skills and a variety of ways for children to record their learning experiences. 
Please click the link: